Earlier this week, I went to Phoenix, AZ with
xxtapemakerxx
to see Madonna in concert. Madonna was amazing. She definitely is a music legend for a reason. We were on the edge of our seats for the entire show.
Our mini trip worked out absolutely perfectly. A friend of ours kindly offered his home to us while we were there, and the drives out there and back were smooth and flew by.
A few days later,
ricksf
and I went to see Book of Mormon at the Pantages Theater in Hollywood. I feel incredibly lucky that I had the opportunity to see this sold-out show. It was top notch as far as acting and singing go, and I laughed like an asshole several times.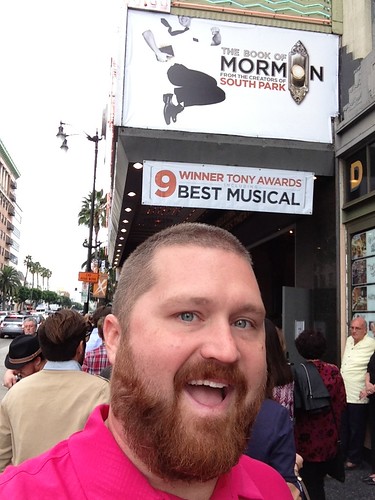 I have so many great people in my life, and I feel very fortunate. Thanks guys!
That's how I feel sometimes. This past week has been a prime example of that.
When I ran in to
fogbear
, he said, "Happy Anniversary!"
We met exactly 2 years ago at Gay Days. We knew each other, sort of, through LiveJournal, but
that day
solidified our friendship. I also met
putzmeisterbear
that day.
They were super fun and lovely this year, as always.
1 year ago
, I met Mike V.
This year, I hadn't seen him all day Saturday, so I jokingly texted him Sunday morning, "Why aren't you at Gay Days? I thought you cared about me."
He responded with "I am! And I do! I'll be right over." He stuck around all day. Richard gave him a hand massage. Good times.
We all had a great weekend. Lots of people to see.
It was also the 2-year anniversary of me meeting
xxtapemakerxx
in person. It wasn't in the cards for him to come this year, but I wished him a happy anniversary by phone.
Gay Days at Disneyland is also where I met several of my friends in person for the first time.
That day, were surrounded by all kinds of gays, and particularly bear-type gays. Everyone was so cool; we had a great time. It was a total eye-opener for me. Definitely made me want to get out more.
So anyway, yay Frank! He was totally friendly. Even as I told him the reader's digest version of my story.
And here's us three years ago.
Last weekend, I ran in to Frank DeCaro (from the Daily Show and OutQ on Sirius/XM Radio). Our encounter was a big deal to me. See, I met him at Disney California Adventure exactly three years ago. Mark and I had gone to Disneyland for no particular reason. Turns out it was Gays Days weekend. At 11am that day, there was a "bear" group picture. We didn't know anyone, but I wanted to meet Frank.
My roommate is out of town for the week, so I have the house to myself. Unfortunately, we're having
another
heat wave here, so all I feel like doing is sitting at my desk and staring at my computer.
But it's not a lost week. I've been working hard on the front yard. Ripped out the last three bushes that were really bugging me. I'm the king of the jungle!
I'm going to see the play
Pippin
on Thursday with my friend
ricksf
. I'm thrilled. I've never seen it before. I like the music.
Tonight, I'm watching a Weeds marathon. I think I'm going to make it to the final episode ever. How's it going to end?!
I hope to see some of you at Gays Days this weekend!
Hey guys,
We spent most of the weekend trying to beat the heat. Just my luck, it was the hottest weekend of the year, and I don't have air conditioning.
Highlights of the weekend:
- We watched
For a Good Time Call
. It is a laugh riot. I highly recommend it.
- Lunch at
Snooze
in Hillcrest. Snooze is a new brunch restaurant that is quickly becoming known for its long wait times. We decided to tough it out, and we only had to wait about 15 minutes for a table. Everything we ordered was delicious. A total win.
- On Saturday night, the house was too hot, so we slept outside in the backyard. It was like camping.
- Sunday night, we saw Best Coast and Fiona Apple at the
94/9 Independence Jam
. We got there in time to see Best Coast play about 4 songs, then Fiona played an hour-long set. I was pleased.
I hope to see those guys again soon.
Three of my favorite out-of-towners came down for the weekend, and it was a blast. Matt and Robb stayed with me at my house, and Brian stayed with another friend of ours.
Casino Royale
.
I love James Bond movies, but I had only seen this one as a cam version. In a way, this was my first time.
A couple observations:
1 Daniel Craig is so muscular that he occasionally looks like
Rob Liefeld
drew him.
2
Parkour
, yay!
3 No Q? Rip off.
4 My new favorite name ever is "Le Chiffre".
5 M, played by Judi Dench, is a sassy bitch. Love her. Fear her.
Quantum of Solace is next!
In prep for Skyfall, the new James Bond movie, I watched the Daniel Craig version of
jpinsd
and I had quite an epic weekend.
Friday, after work, we drove up to Palm Springs to visit
ricksf
's beautiful PS home. We had a very relaxing time swimming in the pool, reading chatting and dining. We even watched Star Wars on blu-ray. Great!
On Sunday, we headed up to Lake Arrowhead to meet up with my family. We stayed at the same cabins that my family did when we were little kids. It was wild going from a dessert atmosphere to a mountain atmosphere within just a few hours.
We took Monday off and spent some time at Lake Gregory. It was beautiful there. My brother and sister took their families out on the lake while we watched. It was so charming seeing the two families doing things that my family did when we were little. At one point, I started singing Circle of Life from The Lion King. Ha ha.
We got back to town Monday afternoon. It was a great weekend, but of course it was nice to be home.
I thought about hiring a gardener to maintain things or even someone to come in and remove some of the wilder plants. The other day, I decided to take action.
I probably went a little overboard. I ripped that bush right out. It wasn't easy. Look, sweat!
My plan is to take out all four bushes outside of my house and replace them with four simpler, easier to maintain plants. Maybe succulents. I'm excited about this. Perhaps there's hope for my front yard after all!
My front yard has gone a little downhill over the past few years. I have 2 lovely palm trees out front. Those are keepers. But everything else is getting overgrown and sloppy. My biggest pet peeve has been this bush by the front door.
I'm fascinated by the moves Microsoft is making right now. In addition to the new Windows 8 OS coming out, they also have the Surface tablet (Windows RT version and full Windows 8 version), SmartGlass media streaming technology and the XBox 720 all in the works.
They even have a new logo.
It seems like this a critical time for Microsoft. If they know what they are doing, there is a lot of potential here for a big comeback. But I don't see that happening. More than likely, all of these products will be questionable in quality, and they will fail. Except the XBox, I suppose, that's kind of a slam dunk.
That being said, I'm totally going to get a Surface, XBox 720 and upgrade my PC to Windows 8.
I'm mostly a Mac/Apple guy. But I'm also kind of a technology slut. I like it all!
My bedroom faces the street. It's mostly a quiet street except in the morning, when people go to work. It's been warm, so I've been going to bed with the window open and the blinds down, but open, to let air in.
At about 3am, I heard someone walking around in the front yard. At first, I thought it was Mark going to work. Turns out it was a stranger who was clearly under the influence of something. He was probably stumbling home from the bars, but he was
really out of it
. Like a zombie.
At first, it was a little amusing to watch. But it got real when he walked right up to my window, presumably not knowing I was there. I think he was trying to find a place to throw up or pass out. There I was, naked, window open and with a zombie-like drunk guy stumbling around inches away from me.
After a few minutes, he turned around and walked towards my driveway. By "walked", I mean the exact walk the zombies do in
The Walking Dead
. He then leaned against my truck for a while. I swear I heard him throw up, but in the morning there was no evidence of that. I couldn't see him anymore, but I think he started to move towards the backyard when he either tried to get in to my truck or bumped it really hard. The alarm went off. That scared him just enough to slowly walk away. Whew!
Once I saw him get about halfway across the bridge over the freeway, I figured my house, my truck and I were in the clear.
It's no big deal, and he meant no harm, but YIKES.
Well, I had an interesting night.